Fall is slowly creeping up on us. It's a great time to be in Wilmington and Wrightsville Beach. There is an endless supply of beautiful weather and plenty of fun events throughout the area. If you have even been in Wilmington or Wrightsville Beach in October, you've most likely run across some of the bigger events like Riverfest, the PPD Beach2Battleship Triathlon, or even the Battleship's Halloween Bash.
We want to make sure you don't miss out on some of the other great events being held throughout the month.
Family Farm Day
During the weekend of October 2nd, you and your children will not want to miss out on Family Farm Day at the Children's Museum of Wilmington. From 9am-12pm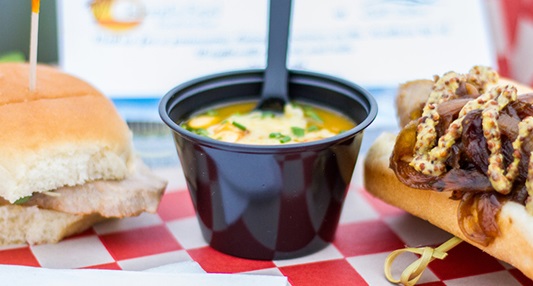 children can meet all of their favorite barnyard animals. Pet chickens, bunnies, and many other four-legged animals or enjoy a ride on a pony! They will also be able to sit back and enjoy milk and cookies while listening to story time.
The Children's Museum of Wilmington is located downtown at 116 Orange Street.
Bark in the Park
Looking for a unique event, or something to enjoy outdoors? Look no further than Bark in the Park, October 3rd at Wrightsville Beach Park. Watch in amazement as talented canines leap into the air to catch flying discs. This event is free, so sit back and enjoy these mighty dogs – or bring yours along to showcase their talents!
If it happens to rain, the rain date is October 4th at 1 pm.
Taste of Wrightsville Beach
What could be better than an event that allows you to taste the best foods along Wrightsville Beach? The Taste of Wrightsville Beach is being held October 10th at the Waterfront at MarineMax from 5-8pm. There will be over 30 food, wine, and beer tasting booths to enjoy from. Judges will rate dishes for the "Best in Show" and the public will decide on the "People's Choice" award.
Tickets go fast for this event, so grab your tickets today!
Lighthouse Beer & Wine Festival
Over 100 craft breweries and wineries will be featured at the Lighthouse Beer & Wine Festival taking place on October 24th. This fun-filled event includes beverages, food vendors, live music and more! A VIP pass will get you in at 12 pm, an hour before the crowd. General admission is at 1 pm. There are even passes for those designated drivers!
Spooky Sound Paddle-Fest
It wouldn't be October unless we mentioned something spooky, right? Have your family dress up in their best costume and head to Wrightsville Beach on October 31st for some paddle boarding, canoeing, or kayaking. The event is a non-competitive race along a mile and a half course on Wrightsville Beach at Wrightsville SUP. Before the race will be clinics and demonstrations, for those who need it. Prizes will be awarded for best costume and strangest watercraft!
The event starts at 8:30 am and is $15 per person.